Following the tutorials I am stuck at creating a commission settlement for a completed order and the attached sales rep.
I setup commission point product with the base commission of 19%.
I created a product and added it to both customer test list as well as supplier / vendor test list.
I created a commission contract with a product specific commission rate.
I created a sales rep as supplier with supplier test list as price system and a default discount schema.
I activated the commission contract for the created sales rep.
I created a customer with the created sales rep attached.
I created an order including the product created in step 2 for the customer with the sales rep attached.
I delivered and invoiced the order.
I jump to the connected commission deed and try to jump to the referenced "Purchase Invoice Candidates", but no references are displayed.
Does anyone have an idea or a hint on what I am doing wrong?
Maybe it has something to do with no settlement candidate and no points being available to settle?
Couldn't get my head around, why that is though, so maybe someone is able to enlighten me regarding this point as well.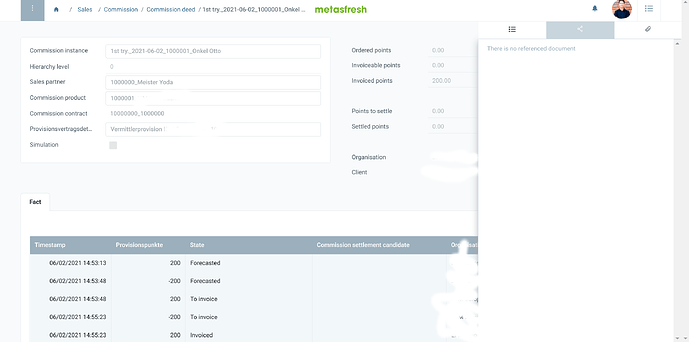 Thanks a lot in advance for any help
Luke